Well, it's time to say hello to the ultimate doom of Finals Week. Just need to survive these few days of projects and exams, and then I can go home and start my holiday traditions! Still cannot believe how fast this semester went!
These cookies are oh so Christmas-y. They make me extremely happy.
Peppermint. Chocolate. Coffee. What's not to love?
I am a Christmas season fanatic. All about Christmas cookie decorating, and gingerbread houses, hot chocolate (and Bailey's always makes it ten times better), holiday movies, Christmas music (Oh so many lovely songs to get you into the Christmas spirit), advent calendars (though I am not the least bit religious, and don't even eat the plastic-taste chocolate...that's a topic that needs its own entire rant).
Christmas cookie decorating
Whenever I think of the holidays, I remember all the silly tree ornaments that my mom has accumulated over the years. Robots. Elephants with tutus. Fish.
Every year we have to put up a pickle ornament on the tree... and the tradition has always been that one person hides it somewhere on the tree, and another person has to find it! I feel like it comes from some part of my family (maybe the German side?).
Last year's Christmas tree
I have been known to be a pretty good pickle hider. I like to be super tricky and stick it far on the inside branches so you have to get in there to find it!
Last year's Christmas tree decorating with my boyfriend Nevin
Over the years, we've bought more pickle ornaments than just the one...so we have been hiding multiple pickles on our tiny four foot Christmas tree!
I cannot wait to go home and keep on with my family's silly traditions! :) The holidays are the BEST.
Ingredients: (Slightly adapted from
EatLiveRun
)
1 cup butter (2 sticks), room temp
1 1/3 cup sugar
1 tsp peppermint extract
1 tsp vanilla extract
2 eggs
2 tbsp instant coffee granules
1/2 cup cocoa powder
1 tsp baking powder
1/2 tsp salt
2 1/4 cups ap flour
1 cup semisweet mini chocolate chips
1/4 cup white chocolate chips (for drizzle)
6 candy canes, crushed
Preheat the oven to 350 degrees. In the bowl of a standmixer, beat the sugar and butter until light and fluffy. Then add the peppermint extract, and mix until incorporated. Then the eggs, beat until combined. In a separate bowl, whisk together the dry ingredients. Add to the wet, and mix on low until it just comes together. Then add the mini chocolate chips. Scoop onto a cookie sheet, and bake for 11-13 minutes. Melt the white chocolate chips in the microwave (30 second intervals, mixing with a spoon in between) and put into a small ziploc bag. Snip the tip, and drizzle the white chocolate over the cookies. Then top with the crushed candy cane.
These cookies just got me even more excited to go home and soak up the few days I have of pre-Christmas jollyness. San Francisco at this time of year is the most beautiful place ever. Can't wait to go ice skating on Union Square, and look at all the pretty lights and window displays (puppies and kittens at Macy's! ahhh!).
Cookie with a coffee :)
Just gotta endure this last week! Can I just fast forward already?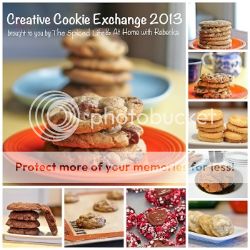 Check out what the other bloggers are up to in the Creative Cookie Exchange: